Complete solution
Welcome to Hallborn.

With long experience and well established contacts we create a complete solution for our customers. No matter if your parts are simple or complex.
We combine our production in south of Sweden in cooperation with suppliers in Europe and Asia.
We are specialized within cutting processing, but we also supply our customers with other sorts of parts, depending on the needs.

You will receive a simple and complete solution.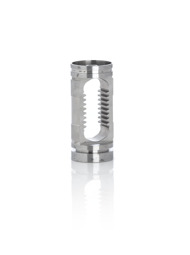 Our expertise is within cutting processing, automatic and CNC-lathing and milling.
In our production unit in Gnosjö we produce parts for both the Swedish and international market. We combine a broad competence, experience, high level of technology and continuous development.
This is our way to find the optimal solution.
Our production is supplemented through cooperation with partners in Asia and Europe from which we supply parts in sheet metal and wire, cold cutting, plastic components and castings.
Hallborn has quality and environmental certifications that we combine with active quality work with our partners.
We will meet you at your facilities or at Rudhäll Group
We will start discussing your needs and what type of parts we will produce.
We highlight issues like size, tolerances, volumes and needs of processing and a complete solution. We have extensive experience and insight in the development process proceding the actual production stage and we understand the importance of the right analysis from the beginning.

Many years of experience in efficient production lies behind
In many cases we work actively with customers to make adjustments to the parts to enable efficiency and savings already in the drawing stage. Material selection and characteristics is also analyzed.
The right technique or combination of technologies will be found
There is a lot of varieties of techniques through cutting processing. We will help you with how and where your parts will be produced for the best results and to the best price. It can also be matching other production techniques such as wire and sheet metal machining, cold cutting or casting.
In our facilities in Gnosjö and Värnamo
We have a high capacity of lathes and mills for widely different needs.
Your parts will be manufactured either at our units or at one of our partners in Europe or Asia.
Complex entities are assembled
Production is followed by different types of post-processing where soldering, welding and assembly is some of our great strengths which we perform "in-house".
On Rudhäll Industri or at Rudhäll China
All post-production quality control is conducted at Rudhäll in accordance to the predefined project requirements.
Do you want to know more?
Our sales team is ready to answer your questions, to know more about your needs and to provide you with solutions.